Are you looking for a Dark Soule 3 cheat table to get unlimited health, stamina, 100% drop rate, and estus? Do you want to spice things up while playing multiplayer or single-player games?
Download the Dark Souls 3 Cheat Engine table that is fully working in 2023. As the DS3 doesn't have Valve Anti-Cheat using a cheat engine won't get you in trouble. Cheat Engine is software that allows you to change your game data manually. Using this too you can unlimited spawn items or item swap.
Don't worry you won't need to worry about Dark Souls 3 Cheat Engine not working or crashing issues as the latest version v1.2.4 – Game v1.15 is still working.
Dark Souls 3 Cheat Engine Table Feature
By using Dark Souls 3 CT v1.20 you can get:
Unlimited Health
Unlimited Focus Points
Unlimited Stamina
Ignore Status Effects
Unlimited Items
No Reload
Unlimited Weapon Durability
Unlimited Armor Durability
Movement Multiplier
Access All Bonfires
Character Pointers
Last Highlighted Item Pointers
No Weight
Other Crap
How To Use Dark Souls 3 Cheat Engine?
First, you need to download the latest version of Cheat Engine and install it on your PC.
Now press the CTRL button if you are playing FulScreen mod to use Cheat Engine conveniently.
With Cheat Engine now open, click the Open symbol under File, select the table that you downloaded, and press Open: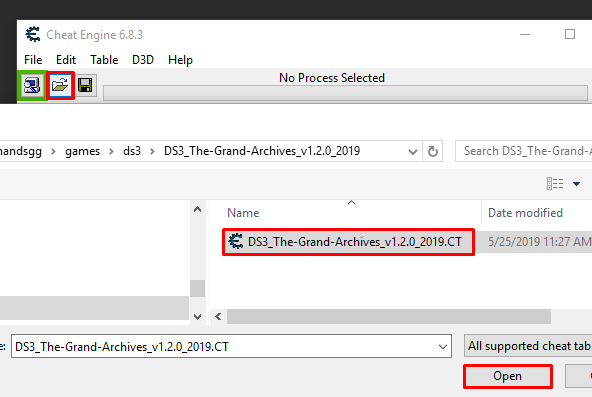 Select the Dark Souls 3 process by clicking the find process button (under File), selecting Dark Souls III, and then pressing Open: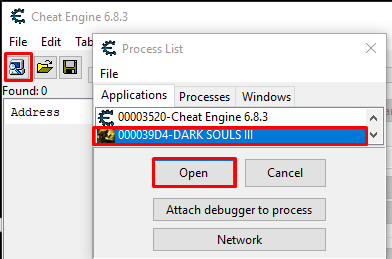 With the Cheat Engine Table open, check "Open – Table v1.2.0 – Game v1.15", then check "Helpers", and then Check "Item Gib":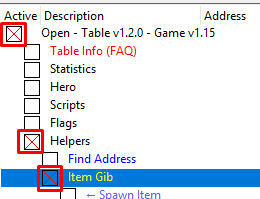 To spawn an item, you'll need an item ID. There is a huge list of Dark Souls 3 Items Spawn IDs that you can find online. Here as an example, we are using the item ID for a Shortsword, which is 001E8480.
With Item Gib open, double-click the "Item ID (Hex)" field – you need to double-click the item code in the "Value" column to change it (highlighted below), not check the box. A small window should then pop up asking you what to change this to. For a Shortsword, enter 001E8480 here, but you can replace this with any item ID if you wish to spawn another item. Then press "OK", and check the "Spawn Item" box in the table:

Dark Souls 3 Cheat Trainer
Using the DS3 Cheat engine table is tricky so instead you can download cheat trainer. The DS3 trainer is a standalone tool that you install on your PC and then easily tweak cheats. If you are looking for s popular best Dark Souls Trainers then we recommend you to download WeMod.