Are you searching for a solution to gain better control over your computer's fans? In this article, we've spotlighted eight fan control software for Windows PC and two for Mac. These tools offer a range of options to suit your specific needs.
If you've ever experienced the annoyance of your computer's fans going into overdrive while simply browsing in Chrome or playing your favorite game, it's a clear sign that you need to regain control. Fan control software can empower you to manage your PC's fans based on your system's temperature.
In the following article, we present 8 Windows software tools designed to help you take command of your fan speeds. These programs not only offer fan control but also provide additional features such as system monitoring, alerts for failing drives, and even overclocking tools, among others.
So, if you're on the lookout for a program that can help you customize your fan settings and more, continue reading for our recommendations below.
Read Also: What type of CPU Fans you can Control?
Summary: PC Fan Speed Controllers
Fan Controller
Best Use
Platform
Price
FanControl
★★★★★
Control and adjust CPU/GPU/Case fans instantly.
Windows 11/10 PC
Free
MSI afterburner
★★★★★
Safely overclock PC, Control CPU fan speed, GPU fan speed
Windows Desktop PC/Android
Free
Easy Tune 5
★★★★★
Control CPU cooler fan, Overclocking utility
Windows Desktop PC/Laptop
Free
Argus Monitor
★★★★★
Create customized fan curve, Control CPU and GPU fan speed
Windows Desktop PC
Free / $3.90 per year
SpeedFan
★★★
Control CPU fans speed, and laptop fan speed, and monitor system temperature
Windows Desktop PC/Laptop
Free
Corsair Link 4
★★★
All in one tool to manage Corsair products, Control CPU and GPU fan speed, AIO cooler fan, case fan
Windows Desktop PC
Free
ASUS AI Suite
★★★★★
Control ASUS Motherboard fans
Windows Desktop PC
Free
Zotac Firestorm
★★★★
Control graphics card and its fans
Windows 10/11 OS
Free
MacFanControl
★★★★★
Best Laptop fan speed control, Change fan speed via the slider
Windows Desktop PC/macOS MacBook
Free / $24.95
smcFanControl
★★★★★
Control individual case fan and CPU fan, easily increase fan speed
macOS MacBook Air/mini/Pro
Free
8 Best CPU Fan Control Software For Windows 10/11 PC in 2023
If you're on the hunt for reliable fan control software for your Windows 10 or 11 PC, look no further.
1. Editor's Choice: Rem0o's FanControl
FanControl, developed by Remi Mercier, is a top-notch free fan control software right now. It elegantly manages all fans, including case fans, and tracks CPU, GPU, motherboard, and storage temperatures. Although RGB fan color control is not supported.
Its clean user interface ensures easy navigation, even for novices, though installation may be a bit tricky. Helpful video instructions are available for setup. Users can fully control all fans in the system, including individual graphics card fans, and create custom fan curves. Fan Control is entirely free, but donations for the developer (Rem0o on GitHub) are appreciated for their exceptional work.
2. MSI Afterburner For Windows
Control Fan in MSI Gigabyte ASRock AMD CPU
MSI Afterburner is a free and versatile software used for overclocking computers and controlling fan speed. It offers real-time monitoring of memory usage, CPU/GPU temperature, FPS, GPU voltage, and frequency.
Users can set up to 5 fan speed profiles and create custom fan curves for maximum performance. The tool is user-friendly and allows benchmarking of the entire system. It is especially popular for GPU overclocking and offers accurate on-screen monitoring. With easy fan speed adjustments, it helps prevent overheating issues.
Overall, MSI Afterburner is considered one of the best system tools for Windows 10, suitable for both AMD and Nvidia graphics cards.
Related: Solved: MSI Afterburner Can't Change Fan Speed
3. EasyTune 5 For Windows PC
Best Laptop Fan Speed Controller
EasyTune 5 is another best fan control software for Windows 10. This software is designed with an easy-to-use interface. EasyTune 5 is an overclocking utility but it also has fan control options for Windows 10 users. No matter if it's a CPU fan, case fan, laptop fan, or HDD fan this utility can manage all of them.
You can also use its fine-tuning to enhance and manage the system, voltages, and memory clocks in the Windows OS. If you run this CPU fan controller at its optimal level, it can maintain the ideal CPU temperature at 60 C.
EasyTune 5 has a smart fan control feature to manage the fan speed of the CPU and North-Bridge Chipset cooling fan. It also monitors system status to verify PC health and provides an overclocking feature to improve the system's performance.
It's a free computer fan control software with an easy-to-read interface that supports all Windows versions.
4. Argus Monitor For Windows
Reliable Windows 10 Fan Control
Yet another best CPU fan control software for Windows 10 that can change the fan speed of a PC instantly. Argus monitor is a simple tool made by a German company. It can do anything that other fan speed controller software can do and a few more things on top of that.
This PC fan controller software shows you all of your system's sensor data like HDD temps, GPU, CPU temperature, and so on but the most amazing feature is its fan control function.
Argus Monitor is super easy and simple to use. Each PC fan can be controlled separately and you're able to select lots of different input factors for your PWM fan curves for example the CPU temperature or the average GPU temperature make a nice curve.
You can also save and even export your fan control settings in case you have to reinstall your operating system. This PC fan control software is also very flexible in terms of customization there's a classic and a dark theme.
Related: Solved: GPU Fans Not Spinning Problem
You can track everything you can think of in the Windows tray area without annoying gadgets hovering on your desktop or its edges. The Argus Monitor pro version is also available which will only cost you 8 euros for a year.
After a year you don't get any more updates but you can still use the PC fan control software as long as you want with your one-time payment.
5. SpeedFan For Windows PC
CPU Fan Speed Control Software For Intel
SpeedFan is a popular PC fan controller software compatible with Windows operating systems, including Windows 10 and Windows 11. As a reliable CPU fan controller, it allows users to monitor crucial information about their computer, like CPU fan speed, system voltage, and motherboard temperature. Additionally, it offers the convenience of adjusting and controlling fan speeds to ensure optimal cooling performance and a quieter computing experience.
The software's user-friendly interface makes it easy to access PC fan speed RPM and CPU temperature in real-time. By clicking on the automatic fan speed option, users can let SpeedFan manage both CPU fan speed and case fan speed efficiently.
For more customization, the "Configure" button in the "Advance" tab enables manual adjustments of computer fan speed using simple up and down arrows. Moreover, SpeedFan supports temperature readings in Celsius or Fahrenheit, providing flexibility to users based on their preferences.
While SpeedFan has a long history and offers valuable features, it's worth noting that the lack of recent updates may limit its compatibility with newer motherboard models. Nonetheless, for those with older systems, SpeedFan remains an effective and practical PC fan speed controller software.
Related: Fixed: SpeedFan Not Working on Windows 10
6. Corsair iCUE For Windows PC
Brand Specific Fan Control For PC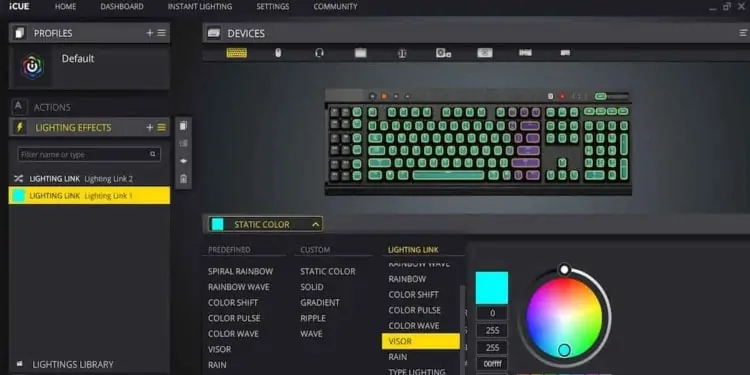 Corsair iCUE is a versatile software that manages Corsair products on your computer, offering real-time temperature monitoring, customizable lighting effects, and fan curve controls. Users can synchronize RGB lighting across compatible Corsair devices with options like Rainbow, Yellow, Rain, and Visor effects. The software provides default performance modes – Quiet, Game, and Movie, while also allowing custom modes for different activities.
Previously known as Corsair Link 4, Corsair iCUE now integrates all its features. It serves as a PC and hardware monitor, enabling checking of CPU temp, HDD temp, CPU load, and PC fan speed control.
Suitable for Corsair Hydro Series liquid CPU coolers and other systems, the software lets users adjust fan speed to prevent overheating. With customizable backgrounds, it's the best PC fan controller software for Windows OS and can be used on Laptop PCs for monitoring and adjusting fan speed.
Related: Fixed: Corsair Link Not Controlling Fans
7. ASUS AI Suite 3 For Windows
ASUS Motherboard Fan Control Software
If you are searching for the Asus laptop fan control utility for Windows 10 because you have an ASUS motherboard. Then you should download AI Suite 3 for PC. It's a free tool to control fans connected to the ASUS motherboard.
AI Suite 3 has multiple functions, it monitors the system status including CPU temp and it also integrates with ASUS software making it easy to access the ASUS hardware using the unified software.
Fan Xpert 4 is one of the main features in the AI Suite 3 that lets you control all the fans that connect to the motherboard. You can control the CPU fan speed or customize it according to your needs.
8. Zotac Firestorm For Windows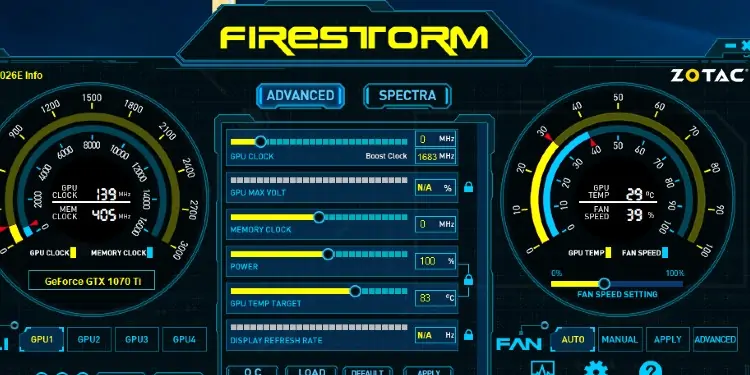 Another best fan control software for Windows 11 & 10 on our list is the Zotac Firestorm. The Zotac Firestorm is just fan control software it also has GPU overclocking features.
This tool is very easy to use as all of its options are displayed in a simple interface. You can easily set a custom fan curve, change your graphics card's RGB lights, and monitor its performance.
The only shortcoming of this tool is that it only controls GPU fan speed. To control the CPU fan you should download SpeedFan.
But, if you need to control the fan speed of your graphics card, this is an excellent program to get.
Our 2 Best Fan Control Apps For Your Mac
1. Macs Fan Control For Mac
Notebook Fan Control
If you want fan control software that has a straightforward interface then download Mac fan control software (Download it from HERE). This CPU fan control is available for both Windows OS and macOS. But, to run this PC fan controller first, you need to download Boot Camp.
This fan controller software is the best monitoring software for Mac. You can monitor CPU temp on Windows and Mac. It is the best solution for Mac Overheating or for those who often deal with noisy CPU fans. You can also use this CPU fan control on the laptop and easily change the laptop fan speed.
When you run the Mac fan control app you can see that it show all fan on one side and other components on the opposite side. If you want to change the Mac fan speed then click on the "Custom" button use the slider to adjust the CPU fan speed or intake fan and then click "OK".
2. smcFanControl For Mac
PSU & Case Fan Controller
Our last CPU fan control software is smcFanControl (Download it from HERE). Whether it's a CPU fan or a laptop fan this fan control software has all the equipment to change their speed. Download smcFanControl if you want is deal with heat issues on Mac.
This free tool allows its users to individually adjust the speed of CPU fans and main computer fans. All built-in fan is set at a minimal speed which sometimes causes overheating. To counter that problem you should download SMC fan control for Mac and increase that minimal fan speed.
It's a fact that modern Mac devices overeat more quickly. You can feel that heat on your thighs. The common reason is the compact yet advanced hardware in them. The SMC fan control for Mac is a solid answer to counter these issues.
Conclusion
Well, that's it we have broken down our list of best fan control software applications in 2023.
However, our recommendation is MSI Afterburner because it shines with comprehensive offerings, including benchmarking, system specs, and various other functionalities.
Whether you use Windows 11, Windows 10, PC, laptops, or macOS, these top-notch utilities provide accurate readings and are incredibly user-friendly, even for newcomers, enabling easy CPU fan speed adjustments.